About
Arrow Design Services Ltd has built a sound reputation for delivering successful solutions to difficult process problems. Our key business objective is to use proven technology to create innovative machine designs.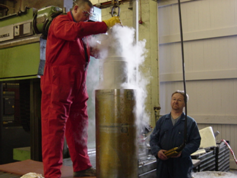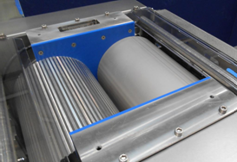 By paying attention to the detail engineering of projects we can be confident that machines will assemble correctly and work when delivered to site. Arrow supports its products from concept to operation. The supply of spares and post installation care is part of our range of services to customers.
We make use of many analytical tools when developing engineering solutions. Forming machinery can be subject to massive strains and key components must be stressed for correct size and service life. FE analysis and materials selection are at the forefront of our engineering practise.
Most equipment failures can be traced back to a fatigue mechanism. Usually, a combination of load, number of operating cycles and materials selection combine to create a fatigue failure. In the design process we aim to work below acceptable material Endurance limits and use correct fits between transmission parts.
Most of Arrow's engineering practise has been refined over a 20 year plus history. We have premises based in Peterborough, UK and can call upon many support services based in the local area.
Arrow can supply a range of rollers for dough forming machinery. We survey machinery on site and create a roller solution that does not require modification of the original machine. Rollers can be supplied hardened, rubber coated or with low friction surfaces. We also supply engraved rollers for cutting and docking.
We receive some interesting challenges from our customers. In recent years, Arrow has supplied many innovative solutions that include continuous wire feed systems, pneumatic side cheeks for sheeters and product decoration systems. In the early years of the Company's trading history, we manufactured PU foam dispense systems for steel panels and automated fixtures for welding wall mounted enclosures.
We hope that as either an existing or potential customer for our products that you can gain confidence in Arrow's capabilities from our strengths and approach to projects.
We look forward to hearing from you soon.
---
Dough Sheeting Machinery by Arrow
Three Roll Sheeters
Two Roll Sheeters
New sheeting rolls
Repair of broken sheeting rolls