Combination Dough Sheeter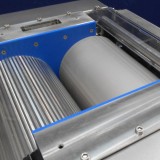 The Arrow Combination Dough Sheeter utilizes a selection of novel features to guarantee accurate and consistent dough sheet quality. A range of dough types – wheat, potato and corn – can be sheeted for either further reduction by gauge rolls or rotary cut prior to baking / onward processing. A two roll sheeter option can be created by removing the bottom sheeting roller. The design meets daily production demands whilst maintaining ease of operation and sanitation.
Innovative Design to create a dough sheet of uniform thickness. The three roll sheeter has a pressure pocket between the rollers to remove voids in the dough sheet. A novel "barb" type scraper supports the dough sheet at the transition between rollers and conveyor in order to maintain dough sheet integrity. The machine can be extended to provide facilities for dough sheet sample cutting or inclusion of reduction rolls or a rotary cutting section.
Precise Sheeting is the primary function of the Arrow Combination Sheeter. In three roll configuration, the combination sheeter can produce sheets down to 3mm thickness. Alternatively, the two roll machine can produce a final sheet thickness of 1mm. Conversion between three roll and two roll operation is easy and the machine can be supplied with a conversion kit. The benefits of conversion are the wide range of dough types that can be processed from biscuits to tortillas.
Robust Stainless Steel construction is used throughout the sheeter. The height of the machine is designed to give good access without the need for steps. All major assemblies can be removed for sanitation purposes. Roll gaps are fully adjustable. Stops are included on the gap adjustment to prevent rolls coming into contact.
---
Technical Specifications
Key Features
Stainless steel construction
Separate roll and conveyor drives
Variable frequency drives on rolls and conveyor
Speed cascade on roll and conveyor for ease of operation
Mobile design with braked casters
Removable hopper for sanitation purposes
Forcing roll compression change parts kit
Adjustable roller side cheeks to prevent dough leakage from base of hopper
Options
Independent roll drives
Motorized gap adjustment mechanism
Chilled rolls
Hardened rolls for tough dough types
Rotary cutter section can be included
Conversion parts can be supplied for Tortilla production
Conversion kit for 2 roll sheeter operation