Convert a Manual Dough Feed to an Auto Feed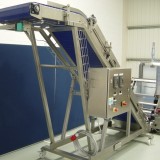 Automatically feed dough to the production line and eliminate manual handling
Accurate and consistent dough feeding of the forming system is a major factor in the performance of a snacks production line.
The preferred method of transferring dough is to form a sheet. Snack dough types tend to lack any natural binding forces that allow accurate metering and transfer. Typically, snack dough types need pressure to form a sheet. A pair of sheeting rolls is the optimum method of creating dough pressure and hence a continuous sheet. The advantages of a continuous sheet over randomly discrete pieces are constant feed rate and superior distribution within the forming system hopper.
Account must be taken of the ability of snack dough types to 'bridge' or plug. This effect can occur above the sheeting rolls impairing the formation of a uniform dough sheet. A range of anti-bridging systems are available – dough gates to limit build up above the rolls, kibbler shafts that break up dough masses to maintain flow and 'bridge breakers' that release dough from the hopper sides.
At Arrow, we use a pair of sheeting rolls with gap adjustment to form a dough sheet. Dough is regulated by a dough gate and a kibbler shaft stops a single mass forming above the rolls.
Use of dough accumulation in the dough feed system frees the mixer to start the next mixing cycle. A conveyor in the bottom of the feed system supported on rollers automatically advances the bulk dough mass. Good design practice is used to avoid the pit falls of dough bridging. Vertical sides lined with low friction material reduce the chance of a dough bridge forming.
Corn masa dough can be likened to machining 'sand'. You think that you have formed a dough sheet and then one poor transfer can break it. The Arrow dough feeder includes many features to assist transfers such as barbed scrapers that support the dough sheet between roller and conveyor.

If you would like to know more about our advanced products, then please call us.
---
Technical Specifications
Key Features
Stainless steel construction throughout
Low friction rollers below conveyor
Good access for cleaning and sanitation
Rear sweep out door with interlock
Thick or thin sheet roller settings
Quick release conveyor tension system
Optional Features
Dough gate regulation between live bottom bin feeder and sheeting rolls
Variable roll gap adjustment controlled by the operator
Kibbler shaft above sheeting rolls
VFD speed cascade for rolls and conveyor
Dough feeder width options are 500mm, 600mm and 1000mm. Larger widths are available
Steep incline conveyors for dough sheet transfer to forming machine hopper
Metal detection conveyors for dough sheet inspection
Wheat, corn and potato dough types can be automatically transferred