Cutter and Docker Rollers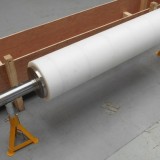 Cutter segments allow the user to make design changes without manufacturing a complete new roller. The Arrow cutter has a stainless steel mandrel base roller. Segments are fitted to the mandrel and locked in place by threaded rings. This type of construction has many benefits for the user including interchangeable designs and introduction of new products.
Cutter segments can be manufactured in either bronze or plastic. All materials are food grade approved. Teflon coatings can be applied to the cutters to reduce dough adhesion. All types of dough sheet – wheat, potato flake and corn – can be cut using either plastic or bronze materials.
New cutter and docker segments can be supplied for the customer to fit. Segment assembly is an easy process. A positive drive feature on each ring eliminates any pitch or phasing errors. Segments are a good production class fit with the mandrel and this helps to make the whole assembly a robust construction.
---
Technical Specifications
Key Features
Stainless steel mandrel
End locking rings
Provision for either drive gear or pulley
Deep groove ball bearings on shaft
Plastic and bronze segments
Options
Spherical roller bearings
Scrapless designs
Teflon coatings for improved dough release
Combined cutter/docker rollers
Bearing housings can be supplied