Dough Feed Transfer Conveyors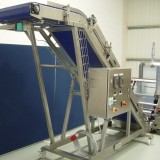 Our Dough Feed Conveyors utilize a combination of novel features to guarantee accurate and consistent dough feed. A range of dough types – wheat, potato and corn – can be transferred to the forming units by selecting the right combination of features. The design meets daily production demands whilst maintaining ease of operation and sanitation.
Innovative Design transfers dough efficiently with negligible dough spillage. Removable side guides fitted for potato and corn dough allow full access for cleaning and sanitation. The space between the main conveyor and back-up conveyor is fully adjustable to allow for sheet thickness variation. A speed cascade maintains the relationship between main and back-up conveyors.
Efficient Dough Transfer is the primary function of the Arrow Dough Feed Conveyor. It is made possible by supporting the dough sheet at the feeder / conveyor transfer using the feeder bottom roll scraper. Side guides located between the scraper and incline keep loose material (such as corn masa dough) within the conveying width.
Robust Stainless Steel construction is used throughout the conveyor. Belts are food grade polymer and blue is the standard colour. Conveyors can be mobile to allow cleaning off-line or suspended from above to create access below the production line. The mobile support frame is "cut-back" to allow passage between forming system and conveyor.
Automated Dough Inspection using state of the art x-ray technology can be added to dough feed conveyors. Ceramic, glass and stainless steel material can be detected in the dough feed before reaching sensitive areas of the plant and eventually contaminating finished products. Dough is rejected by a retracting conveyor roller acting under the control of the metal detection system. After rejecting the contaminated dough, the conveyor roller returns to its normal operating position. The inspection conveyor then continues to supply dough to the forming system.
---
Technical Specifications
Key Features
Stainless steel construction.
Separate main and back-up conveyor drives.
Variable frequency drives on main and back-up conveyors.
Speed cascade on main and back-up conveyors for ease of operation.
Mobile design with braked casters.
Hopper level sensor to control feed rate.
Conveyor and dough feeder alignment system.
Options
Speed reference signal available for dough feeder.
Metal check unit and dough reject.
X-ray inspection unit for ceramics, glass and stainless steel detection.
Non back-up conveyor version can be supplied.
Suspended from above conveyor version.
Very steep incline conveyors up to 60 degrees.
Conveyor decks can be folded to create a "trough" section.