Live Bottom Dough Feeders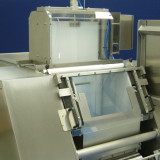 The Arrow Dough Feeder utilizes a combination of novel features to guarantee accurate and consistent dough feed.
A range of dough types – wheat, potato and corn – can be metered to the forming units by selecting the right combination of features. The design meets daily production demands whilst maintaining ease of operation and sanitation.
Innovative Design to convert bulk dough into a continuous sheet. Dough is deposited by the mixer into a rear compartment behind the sheeting rolls. It advances towards the sheeting rolls on a bottom conveyor and is regulated by a pneumatic gate. When appropriate a kibbler shaft is added above the sheeting rolls to prevent dough bridging.
Precise Metering is the primary function of the Arrow Dough Feeder. Dough transfers from the bottom conveyor into a pair of sheeting rolls. A continuous sheet is formed and transfers to either a feed conveyor or direct to the forming units.
Robust Stainless Steel construction is used throughout the machine. The rear compartment is lined with a white food grade polymer to reduce dough stiction. Also, an interlocked rear gate is provided to allow sanitation or reject dough removal.
---
Technical Specifications
STANDARD
Stainless steel construction.
Sheeter roll gap settings either 12mm or 45mm
Pneumatic dough gate.
Bead blast roll surfaces.
Separate roll and conveyor drives.
Variable frequency drives on rolls and conveyor.
Speed cascade on rolls and conveyor for ease of operation.
OPTIONS
Integral kibbler shaft.
Independent roll drives.
Fully adjustable gap control.
Chilled rolls.
Hardened rolls for tough dough types.
Chunking rolls.
Kibbled dough non-sheeting version can be supplied.