Rotary Cutter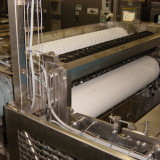 Extensible (or hard) dough products are normally formed into a sheet before rotary cutting. The process of rotary cutting creates a scrap dough lattice that must be separated from the product before it enters the oven.
Also, some products require the addition of text or other surface pattern including docker holes. The Arrow rotary cutter has two stations – one for docking the dough sheet and a second for cutting the dough piece from the sheet. Scrap dough is lifted from the cutter web conveyor by a scrap lift conveyor. The dough pieces continue into the oven for baking.
Cutter and docker rolls are fixed and normally do not move. Rubber coated anvil rolls below the cutter web belt move upwards to force the dough sheet against the cutter and docker rolls. At Arrow, anvil rolls are constructed using a dual rubber compound. A softer inner layer of rubber provides some shock absorption during the cutting and docking process.
When applying text or a surface pattern to the dough piece, the cutter and docker rolls must align. A roll phasing mechanism is used to maintain alignment. This control is an operator function and adjustments can be made easily and quickly.
The cutting and docking pressures can be adjusted to compensate for variations in dough sheet properties. A simple control on the rotary cutter can be used by the operator to achieve the desired pressure setting.
Products with inclusions can be difficult to rotary cut. Cutters cannot generate enough pressure to cut through the inclusion without damaging the cutter belt. A webless rotary cutter arrangement can give improved performance and eliminate cutter belt failure. The dough sheet is presented to the rotary cutter on a conveyor belt in the normal way. The dough sheet then passes through the webless cutter section before transferring back to the cutter belt.
---
Technical Specifications
Standard
Four roll design for cutting and dockering
Dual rubber compound anvil rolls
Cutter and docker roll phasing mechanism
Variable pressure anvil roll raise mechanism
Spur gear transmission to ease of roll removal
Standard cutter diameters – 130mm to 175mm
Options
Independent cutter and docker roll transmissions
Dual cutter roll operation for multi products
Webless rotary cutting system
Anti dough sheet wrap system for cutter rolls
Dough skinning fans
Cutter and docker rolls
Combined cutter and dockering rolls