Rotary Moulder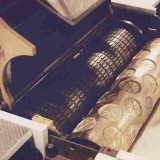 Soft dough biscuits with high combined sugar and fat content are normally rotary moulded. Dough is forced into impressions engraved around a die roll. Excess dough is trimmed away by a scraper knife. The key to successful rotary moulding is to form a blanket of dough around the forcing roll. It is normally grooved and castellated to provide maximum adhesion for the dough blanket. Dough pieces are then removed from the impressions by an extraction web backed up by a rubber extraction roller.
A spur gear transmission to the die roll allows ease of removal. Once the bearing retaining clamps are released, the die roll can be raised and removed from the machine. The scraper blade can be adjusted for height to obtain the optimum operating conditions. This is an operator function for increased flexibility.
Dough should be kibbled before depositing into the nip formed by the die roll and forcing roll. Kibbling assists the dough blanket to form around the forcing roll.
Soft dough rotary moulders expand the envelope of products that can be produced by this method of production. Extra features are required especially to support dough in the die roll impressions. Different roll geometry and a special scraper are included to cope with the properties of soft dough.
---
Technical Specifications
Standard
Dual hardness rubber extraction roller
Endless extraction belt for ease of fitting
Adjustable height scraper blade
Lift-off interlocked stainless steel hopper
Spur gear transmission for ease of die roll removal
Variable gap flanged forcing roll
Variable pressure rubber extraction roll
10.2" (259.1mm) diameter die rolls.
Options
Variable extraction point from die roll
Independent forcing roll drive
Automatic web tracking
Transfer roller for very small products
Positive ejection die roller and stripping wire
Split hopper partition for dual dough operation
Soft dough machine version
Panning discharge version
Dough kibbler