Rubber Coated Anvil Rollers for Cutters and Moulders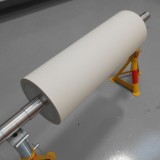 Large forces can be used when either cutting or moulding dough pieces. At Arrow, we use a dual rubber compound for anvil rollers to reduce the impact of these large forces. An inner layer of softer compound creates some shock absorbing capability especially when the roller is driven towards either the cutter or die roll. The outer layer remains at full hardness in order to provide good cutting or moulding performance.
There are two styles of anvil roller – external bearing and internal bearing arrangements. The rubber compounds are bonded to a stainless steel mandrel. For an external design, the shaft is fabricated into the mandrel and the bearings require separate housings for support, grease retention, etc. Alternatively, the internal design has bearings mounted inside the mandrel construction. The shaft does not rotate and can be simply supported in yokes allowing the mandrel to rotate freely on the bearings.
Anvil rollers can be manufactured up to 1550mm long by 300mm outer diameter. The depth of rubber compound can be as much as 45mm radially.
In addition to anvil rollers, Arrow manufactures a range of conveyor drum drive rollers. Typically, rollers are a single hardness rubber compound and the depth of the rubber is much less than an anvil roller.
Arrow uses Food Grade rubber compounds in all its products. Also, we can provide white or blue compounds depending upon customer requirements.
---
Technical Specifications
Key Features
Stainless steel mandrel
Dual hardness rubber compound construction
White colour rubber compounds
External bearing arrangement
Options
Blue compounds are available
Internal bearing arrangement
Bearing housings
Cutter rollers
Moulding rollers