Sheeting Rollers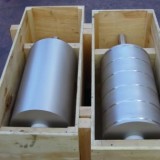 High quality rollers contribute to the efficient running of a sheeting line. At Arrow, we design rollers to be strong and give good service. We use through-shaft designs and select bearings to give a service life in excess of five years continuous operation.
Arrow manufactures rollers from 165mm to 455mm diameter and from 300mm to 1460mm long. Roller options include chilled rolls, Teflon coated rolls and hardened rolls. Arrow supplies scrapers suited to the roll surface. The Teflon coated rolls have a stainless steel substrate to prevent erosion of the surface coating. Alternatively, Arrow's novel dough sheet air release system can be supplied for horizontal pairs of sheeting rollers.
The larger chilled rolls have multiple cooling passages close to the surface. This gives a high velocity coolant flow and dramatically increases heat transfer at the surface. Less coolant is required to hold the roll surface at temperature giving the user lower operating costs.
Rolls are assembled using a liquid nitrogen process involving interference fits between components. Less residual stress is created in the rollers when assembled this way compared with welding.
---
Technical Specifications
Key Features
Stainless steel construction
Ground surface finishes
Through shaft design
Pre-loaded spherical roller bearings
Options
Alloy steel hardened rolls
Bead blast finish
Teflon coat with stainless steel substrate finish
Profiled rolls
Chilled rolls
Stainless steel hardened rolls
'Crowned' rolls for improved dough piece weight distribution