Rotary Cutter Modification for Dual Operation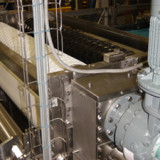 Two snack products can be produced on the same production line without the need to change cutter rollers.
The use of separate cutting and docking rollers is very popular in rotary cutting applications. The cutter pressure can be trimmed independently of the docker pressure. Usually, when operating the rotary cutter with separate cutting and docking rollers two rubber anvil rollers are required. They sit below the cutter web and accept the reaction force imposed on the product by the cutter / docker rolls.
In order to increase plant utilization, a second cutter can be located in the docker roller station. Unfortunately, both anvil rolls will normally operate and come into production at the same time. This creates an unacceptable situation when two cutter rollers are loaded in the rotary cutter. The solution is to make the rubber anvil rollers operate independently.
The rotary cutter requires modification. A set of conversion parts plus new rollers will be manufactured for conversion on site. There is no need to remove the machine from the production line.
Firstly, a thorough site survey of the machine is required combined with research of existing manuals and drawings. An engineering layout drawing can be created to show the parts that will remain and the location of the new conversion parts.
From the engineering layout drawing a manufacturing package can be created and a site Method Statement prepared. In order to reduce site assembly time, the design is broken down into modules or sub-assemblies. The benefit of this approach is to guarantee parts will fit when they arrive on site.
A project plan with actions, timings and inputs by others (eg belt joiners) was prepared for the site phase of the project. When operating in a production time window delays or errors are not allowable. Progress can be compared with plan and action taken where appropriate.
A site modification of this type requires a strong knowledge of rotary cutting combined with a robust project plan. At Arrow we design and build rotary cutters and have over 20 years of site based project work experience.

If you would like to know more about our advanced products, then please call us.
---
Key Requirements
A thorough knowledge of rotary cutters and cutter rolls. At Arrow we manufacture rotary cutters and rollers.
A strong project management capability including planning skills.
A professional approach to site work including organisation and assembly skills.